Coffee Talk Jazz MagazineMarch 2015 Edition
Reviewer: Kathryn Ballard Shut 
R. James Fulfills Elizabeth's Dream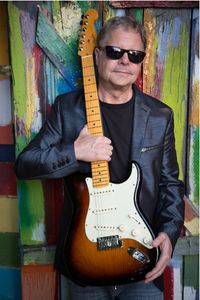 The San Francisco Bay Area-based composer-guitarist delights on ten original tracks featured on debut album, "Elizabeth's Dream", supported by veteran two-time Grammy-winning producer, Paul Brown.
On a recent live interview with Ms. Bridgette Lewis of Coffee Talk Jazz Radio, Mr.
R. James
, (informally known as "Jim"), shared that through his composing, he endeavors to "be able to reach into [his] soul and pull out the notes that sing to [him] as a person", and on his debut album,
Elizabeth's Dream
, an intelligent mixture of both classic and contemporary jazz originals, he has done exactly that.    
Named in dedication to his wife, Elizabeth, who first inspired him to share his talent with the world at large,
Elizabeth's Dream
stands in witness to this deep motivation that brought R. James out of musical obscurity and into the limelight of deeply professional musicianship.   The sweet, tender, intelligently-written, and captivating release features a soulful and rich jazz guitar voice that is expertly supported by a multitude of jazz titans, all hailing from both the San Francisco Bay Area and beyond.  Furthermore, within the album's ten instrumental tracks, R James offers an ample exploration of a variety of jazz and funk styles -- ranging from a classic jazz waltz, to Latin-influenced grooves, all the way to funk and soul flavors. 
Elizabeth's Dream
indeed cast the dream team of musicians, including pianist/keyboard wizards Robert Damper (
Kenny G
) and David K. Matthews (
Tower of Power
); bassists Emanuel Wells, Victor Little (
Patti Austin
), Troy Lampkins (
Temptations
), Marc Van Wageningen, (
Sheila E, Dianne Reeves
), and Roberto Vally (
Bobby Caldwell
); drummer Brian Collier (
Santana
); two-time Grammy-winning producer, co-composer, and session percussionist Paul Brown (
Euge Groove, Larry Carlton, Richard Elliott
), veteran percussionist Derek Rolando (
Sheila E, Santana
), brass master Lee Thornburg (
Ray Charles, Tower of Power
), bari & and tenor saxman Greg Vail (
Rick Braun, Peter White, Al Jarreau
) and vocalists Dee and Brittani Cole of
Elament Music Group (EMG)
, together with EMG bandmate, Lew Laing, Jr. (
Coolio
), as co-composer on several tracks.  
R. James models much of his style after intense study and detailed interpretation of the clean melodic lines and compositions of the legendary
Wes Montgomery
, and in fact admits that he tends to work primarily in a melodic framework as a guitarist.  
As early as his teenage years, Jim studied and modeled his style and touch after the guitar giant.  Fans of the guitar legend will immediately witness that homage on the tender and original jazz waltz entitled "
Montgomery Land
."  The piece is centered in C minor; however, the keen ear will recognize a subtle tonal underpinning in the turnaround similar to the minor/major surprise shift in the Jerome Kern classic, "All The Things You Are" (1939).  Each of these elements, together with the tight classic rhythm section, immediately take us back in time to Montgomery's heyday of the 1950s-1960's.  Jim's approach to melody also makes every note count on this and every track on the album -- there is no fumbling, no filler, no aimless wandering in hopes of hitting the "pretty notes"; rather, Jim's execution allows a flawless and spiritual voice to soar, respectfully commanding the listener's attention. 
As mentioned,
Elizabeth's Dream
cleverly encompasses the jazz spectrum and beckons us to get ready for a great musical road trip over the course of a perfect day.  The opening track, "
Cali Breeze
", delivers exactly what the modern bossa nova's title suggests – against the backdrop of a gorgeous, sunny, and breezy Sunday, we slowly cruise down the Pacific Coast Highway in our convertible with the top down and feeling completely carefree.  "
Road To Heart"
pushes our foot to the pedal just slightly with a break-beat funk, reminiscent in flavor to Chaka Khan's "
Ain't Nobody." 
On the third track, we pull off the highway and stroll into a roadside church, thankful for the wonderful day, with the sole vocal offering on the album, a gospel-infused
" Stay With Me
".  Next, on the light and funky
Elizabeth's Dream
, we hop back into the car with a couple of new horn-playing friends whom we met at church, only to watch the skies darken just a bit, tinged with the wistful minor of the tune's melancholy melody and bittersweet horn lines.  
The clouds part to offer the last bit of daylight with the bright samba "
Savanna
" and the sun begins to set with the sweet rhumba,
"Twilight"
.   Day finally turns to night as we find a club where we can dance to the full funk and the group's harder, edgier sound on
"Cool Groove".
 Finally, after our feet tire from dancing all night, we retire to
"580 East"
to relax with cool drinks and a late dinner, before finally capping off the night with the project's tribute to classic jazz on
"Montgomery Land". 
After an amazing day, we finally crawl into bed, reflect on the perfection of the music we experienced, pray that tomorrow be just as fantastic, and peacefully close our eyes to
"Inner Light
".  A perfect end to a perfect day, ushered by a perfect ensemble every step of the way.